Beautiful Deck Designs in 3D
Explore 360-degree tours of some of our favorite outdoor living spaces to get the inspiration you need for your project.
Luxurious Lakefront Deck Design
Whether you're looking for a place to relax after a long day or a place to make memories with 50 of your closest friends, TimberTech® AZEK® decking has you covered. The homeowners at this lakeside retreat wanted a party palace for their family and friends to gather, soak up some sun, and wash down some suds. Featuring Dark Hickory and Coastline® Porch and deck boards, this fun deck has built-in amenities to drool over.
Eclectic Multi-Width Deck
TimberTech AZEK decking delivers the best of both worlds – bold designs sure to turn heads and a low-maintenance space that's built to be enjoyed, not labored over. When it came time to build their screened-in porch and deck, the owners of this new build in a cozy Minnesota neighborhood opted for the durability and staying power of TimberTech AZEK boards. Durable yet design-forward Impression Rail in sleek black frame the photo-ready deck, while contemporary Coastline® and versatile Dark Hickory in a Multi-Width application deliver the signature style of modern deck designs.
Festive and Functional Drink Rail
In the heart of it all, two Ohio homeowners turned to TimberTech to make their dream deck come to life. Their contractors at Northeast Ohio Deck Company spoke with the homeowners to better understand the needs of this bustling family. While this outdoor living space needed to be kid-friendly, the adults in the home wanted a dedicated dining area – and, more importantly, a place to set drinks when they entertain friends and family. Learn how these homeowners upgraded their view without compromising style thanks to gorgeous and low-maintenance TimberTech PRO® decking in Pecan from the Legacy Collection, complemented by the Pecan Drink Rail from the Classic Composite Series.
Bending Backyard Escape
The pro: a new build in an inviting housing development. The con: a sea of adjoining backyards dotted with middle-of-the-road decks. What's a homeowner craving modern deck designs to do? This one decided to go for the capped polymer and heat-bendable construction of TimberTech® AZEK® deck boards. Now, this coolly curving outdoor living space is a thing of enduring beauty, with a multi-width picture-framed perimeter offsetting circular platforms, and protective AZEK Trim and Moulding delivering serious durability as fascia. No middling decks, here: this bending backyard escape belongs in the winner's circle.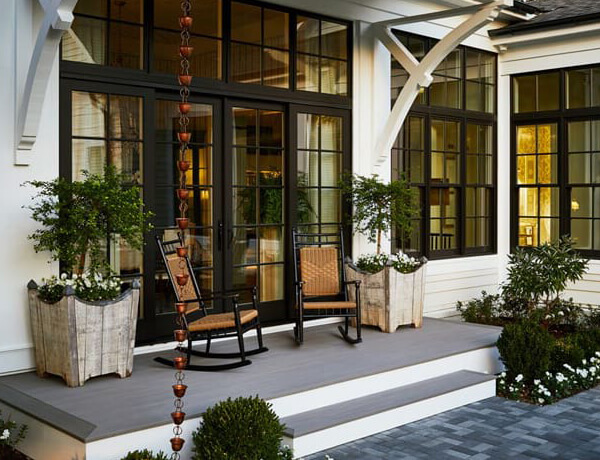 Elegant Southern Living Showhome
This sprawling neoclassical estate needed a special touch that married traditional charm with contemporary design for a signature look. For the builders at Hatcliff Construction, the solution was clear: Multi-Width Decking from the TimberTech AZEK Vintage Collection. With the cool gray tones of contemporary Coastline® deck and porch boards bringing a fresh feel to the home's seven outdoor living spaces — plus appearances by design-forward deck patterns like herringbone — this sweeping Southern home exudes luxury living.
Sophisticated Two-Story Deck
When it was time to optimize their outdoor living space, this family chose TimberTech® PRO® decking and a finished under-deck area. An attractive Impression Rail in Bronze with white posts and island caps complements the home's crisp white trim, while picturesque views and a natural gas firepit invite hours spent enjoying good food and good company. To top it all off, the DrySpace water management system channels moisture away from their finished first-floor area, so this family can enjoy double the useable outdoor living space.
---